Having 28+ years in promoting drug free contests we understand our role in protecting your hard work, time and investment with a fair playing field.
Competition day is yours and we are here to provide you with a great experience in celebration of those efforts.
SUPER PRO QUALIFIER for IPE
NOTE:

Qualification NOT required to compete in the NANBF Natural Amateur Nationals.
In conjunction with IPE World Championships
LOCATION:

Liberty Performing Arts Theatre
1600 S. Withers Road
Liberty, Missouri 64068


NANBF Natural Amateur Nationals


Saturday October 28, 2023

GENERAL INFORMATION
Running Format
Prejudging | Individual Presentation | Trophy Presentation in each respective category.
Entire show format and projected TIMES released show week.
CATEGORIES OFFERED
Bodybuilding
Womens Physique
Classic
Figure
Wellness (No crossovers to other categories for 2023)
Mens Physique
Bikini
WELLNESS Category: NO crossovers to other categories for 2023
WELLNESS INFO VIDEO

CHECK-IN

Friday October 27, from 5:30PM - 7:00PM
Location: Best Western Premier, 421 S State Route 291 Liberty, MO 64068
SANCTIONING BODY

North American Natural Bodybuilding Federation NANBF
NANBF Membership $80. All competitors must have a current NANBF Membership.
Purchase by October 27th, online:
www.nanbf.net
ENTRY FEES

First class $85. Each additional class $65.
Entries after October 21st, additional $75 late fee.
Event T-Shirt sizes and quantity are limited after October 2nd.
No entries accepted after October 25th.
PUMPUP ROOM/AREA POLICY:

Resistance bands, dummbells will be available.Competitors are welcome to bring their own equipment and mirrors as well.

PUMPUP ROOM/AREA POLICY:

Resistance Bands, dumbbells will be available
.
One assistant max per competitor
allowed
in pumpup area.
A
ssistant must
purchase show ticket and wristband for backstage access.

Trainer/Assistant backstage access
wristband issued show day, at Ticket booth, with proof of show ticket.

GA show ticket (good for all day):
TICKETS
Available 10/2
Tickets are Non-Refundable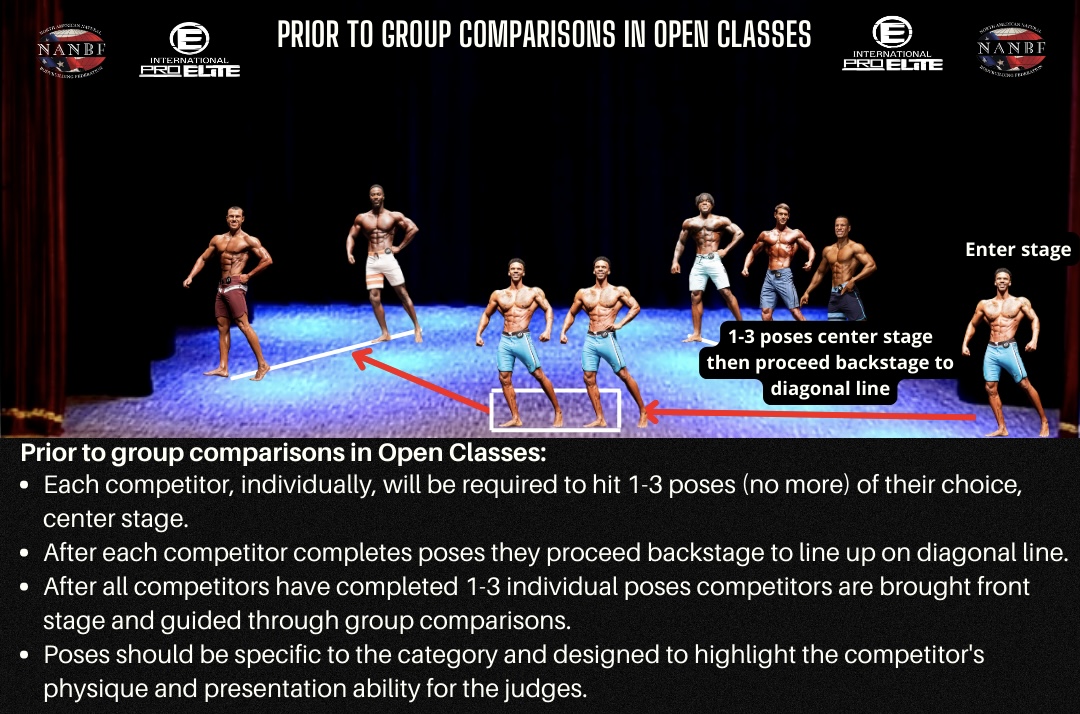 PRESENTATION WALK

Figure | Bikini | Mens Physique: Competitors will use house music supplied by the Promoters for their stage walks. Props are not allowed for stage walks.
ROUTINE MUSIC

Bodybuilding | Classic | Womens Physique

60 seconds. Email by October 21st.
Music not received by October 21st, music will be provided by promoters.
Music in
MP3 or MP4
file format. No other format. Email
natrlbuild@sbcglobal.net
.
TANNING | HAIR | MAKEUP

GLO SUNLESS


EVENT PHOTOGRAPHER

LiquidSpectrum.com


HOST HOTEL

Best Western Premier
421 S State Route 291, Liberty, MO 64068

Book Room RATE: $110.49 Book by October 14
DO NOT USE their sheets and towels if you have stain or other tanning products on. ANY DAMAGES left to the hotel will be your RESPONSIBILITY and CHARGED to your Credit Card.


POLYGRAPH
Promoter will EMAIL entrants a BOOKING LINK to schedule polygraph appointments 3-4 weeks from the show.
Starts Oct. 21 & 22, at polygraphers office. Out of town competitors Oct. 26, 27 & 28, at host hotel.
Polygraph fee: $50 cash paid to polygrapher.
Polygraph testing for all competitors.
Photo identification required.

Results from recent polygraph exams performed from other NANBF contests are honored, if within 45 days.
It's the competitors' responsibility to ensure they are polygraph tested for the event.
URINALISIS
(in addition to polygraph tests). Urine samples will be collected immediatly after trophy presentation. It's the competitor's responsibility to ensure a sample is provided before leaving the event. If competitors do not provide samples they are disqualified.
Promoters
John and Becky Arnold 816-237-9750
natrlbuild@sbcglobal.net